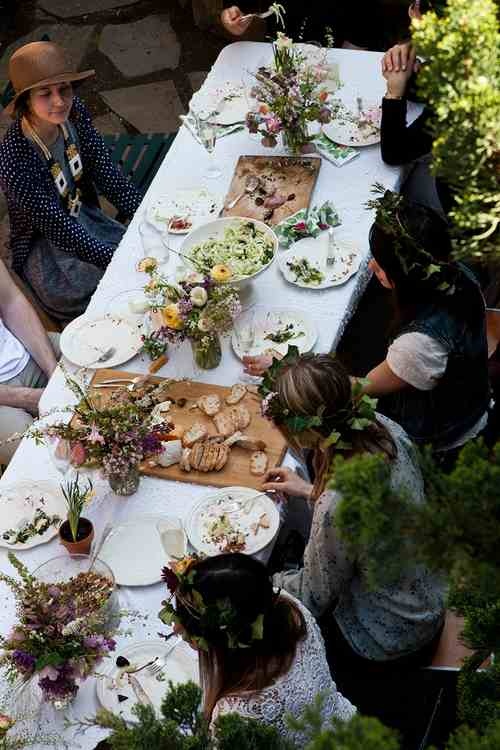 O digestion and Those holiday feasts  (tofurkey or the real thing) can be treacherous.   Here are some simple tips to be well and savor the feast!
Eat When the Fire is Hot:  Digestion is all about the fire,  and that fire is strongest in the early afternoon.  So better to have the feast at 2pm than at 6pm or later when the fire is weakest!
Jump-start Digestion
a. Drink a tall glass of water 20 minutes before starting the meal. This will pre-hydrate your stomach wall, which is lined with an acid buffer that is 80% water. The more water, the better the buffer and the more acid your stomach will produce to enjoy more food. (this tip from Dr. john Douillard.)
b. Ginger Elixir:  Mix this recipe up, keep it in the fridge and offer an ounce of  it to the assembled revelers 20 minutes prior to meal-time.
c. Remember that alchohol often fuels over-eating.  Just be mindful. (click here for recipe)
Don't sit down to the table starving. I often snack so much during prep-time that I eat less at the meal itself, but for most of us:  Eat slowly.  Chew well.  Savor the food and the company – slowly.

After Dinner Tricks (another tip courtesy of Dr John Douillard.  He taught us this during ayurvedic training and it has served me very well, improving my digestion radically over the years since.)   "There is an old Ayurvedic strategy to lie on your left side for 10- 15 minutes after a large meal. This is a short rest on the left side to allow the stomach to empty gracefully and effortlessly.  The stomach is on the left side of the belly and empties from left to right into the small intestine. By lying on the left side, you allow the stomach to hang freely and contract naturally to move the food through when it is all properly digested.  If you lie on the right side or get up too soon, the food is hurried and forced out of the stomach prematurely by gravity. This can cause ingestion and, after a big meal like Thanksgiving, it can cause some gas pains!

Post- Prandial Stroll:  Do not forget to take a relaxing after feast stroll – after the left-side leaning rest, of course.