Life is in the Details. Shop healthy. Shop luxe. Shop well.
FREE SHIPPING 🙂
Lah Shop is a well-edited selection of things to use, smell, touch, feel, and enjoy.  Every selection stands for clarity, intelligent simplicity and joyful equilibrium. The perfect balance between substance and style, science and nature, whimsy and practicality. This small collection brings together authentic, eco-luxe beauty, health and lifestyle choices. 
Be well. Savor the ride.
Daily Body Balm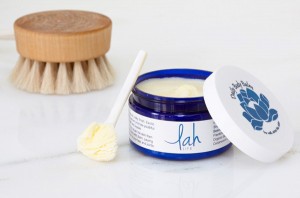 A heavenly scented, non-oily daily body balm lovingly blended just for Lah Life. Completely pure and natural, this balm is just the thing to complete the Daily brush and massage practice.
Love it!
Exotic butters and oils for youthful skin.  I do this every day without fail and I can see the difference!
Dry Brush then take the time for Self Massage … When I miss it I am sorry. Try it daily ! Have some Fun! The iconic all natural handmade "Puck Brush" from Iris Hantverk.  Perfecting your largest organ (the skin) has never been so simple or delicious.  Delicate nut buttery scent with hints of frankincense, vetiver, palmarosa, cedar wood and rose geranium organic essential oils in a base of shea butter, coconut oil, sunflower, beeswax.
Enjoy after brushing with an Iris Hantverk Dry Body Brush.
4 oz Jar for Daily use. $31.00
Body Brush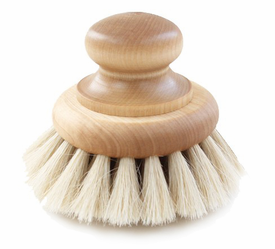 The perfect feel in your hand, the right bristles to stimulate but never scrape the skin.
I searched high and low for the perfect brush for your daily practice of dry brushing and, finally…
Impeccably hand crafted in sweden, and much coveted, these brushes offer just the right grips and bristle stiffness. ( Read up on the 3 Daily Practices.)
Made from oil treated birch or oak and natural bristle. For dry use only.
To clean use lukewarm water and soap. then stand them on their bristle side to drip and dry naturally.
The excellent true story of how Iris Hantverk Brushes are Made: Click Here
Brush $41.00
Essential Serum
Our serum is flowers and earth scented moisture made to nourish and rejuvenate all skin types. These aroma-therapeutic oils penetrate to the deepest level of the skin, ultimately entering the blood stream where they can work to balance the doshas and the skin conditions that result when they are out of equilibrium.
Ingredients: Organic Sunflower Oil, Wildcrafted Australian Sandalwood, Organic Patchouli, Organic Ylang ylang, and Rose essential oils
Directions: Use Swami Blend Facial oil twice daily after facial cleanser or after your weekly mask. Place one pump of facial oil into your hand. Add a few drops water and apply to face and neck.
$ 27.00 15ml size