Versions of Self: Serious theory and a Fun Visual Challenge
First let's be a little serious and devoted to the pursuit of real stable tranquility … what some call happiness.
Then let's play a cut and paste game!
It's Aspirational. Inspirational. Fantastical. Just have fun.
Vedic 411 – abhyasa and vairagya (check out yoga sutras 1.2-1.16)
I think these two esoteric practices are related to this exercise so here we go with an ultra simplistic take on them.
Abhyasa: In all simplicity we are told that the persistent inner practices (yes contemplative practice like meditation) of being with the Self to better know the self is essential.   This is about going ever deeper into the core of our own being beyond the outer trappings.  This leads us to a stable inner tranquility.
Vairagya: This idea of non-attachment is the companion concept you need when you go fishing around in the inner core of yourself.  This concept requires of you that you let go of fears, anxieties, trappings from your given name to your profession to long held notions of where you fit in and what you need to survive that cloud whatever is underneath and is the 'True Self.'
So these twin practices say:  Never give up and let it all go.
The Fun Challenges:
1.  Words:  Make a list of things you like.  Here is mine.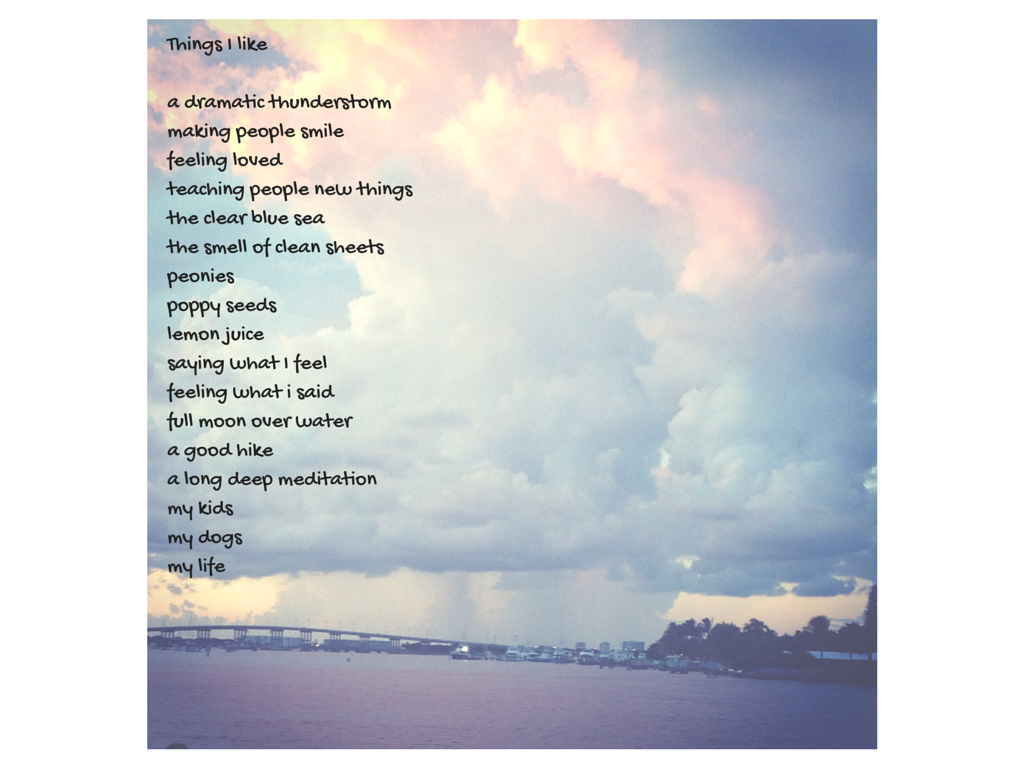 2.  Images: I love telling stories with images.  Find images that speak to you about who you are and what you want to be.  Collect them onto a 'board' (bulletin board, pinterest, print them out and post them..whatever.)
Here is mine: