Welcome to Cleanse:   Step I of the 3 Daily Practices.  
I.  CLEANSE:  In as little as 3 minutes a day  
Set the mood for the remainder of the day.
With that thought in mind, drink a glass of warm water flavored with a fresh slice of lemon or lime.
Warm water  stimulates the gastrointestinal tract and peristalsis—the waves of muscle contractions within the intestinal walls that keep things moving.
Lemons and limes are high in minerals and vitamins and help loosen toxins in the digestive tract.
1. Scrape. 1 minute.    Theory:Ayurveda tells us that scraping effectively reduces bacteria and other toxins that can lead to bad breath.  Scraping is said to gently stimulate the internal organs and improves digestion.  The tongue is like a map of the internal organs,  just as the feet in reflexology are said to reflect the body.)  Tool: Scraping has even been said to enhance the sense of taste.  Scrape before "swishing" and brushing.  I like the Banyan Botanicals stainless scraper best of all.  Practice: Gently pass the scraper over extended tongue 3-5 times. keep scraper clean.  I put mine in dishwasher at least weekly.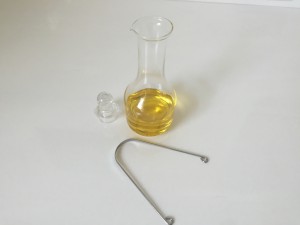 2. Swish. 5-10 minutes (highly optional and highly recommended!)  Theory:  Known in Ayurveda-land as "pulling"  this technique is reputed to reduce plaque and draw out toxins and bacteria from the tissues for expulsion.  Reputed benefits include:  whiter teeth and stronger gums, reduced system wide inflammation, headache relief, detox from harmful metals and causes of certain skin conditions like eczema.  Tool:  Use food grade sesame or coconut oil.  Practice:  Swish approx 1 teaspoon of oil around in your mouth for 5-10 minutes and then spit all into the waste basket.  If you expel into sink or toilet the oil will eventually cause plumbing problems.  It will get thin and frothy and disgusting with bacteria etc so DO NOT swallow.
3. Brush (the pearly whites). 1 minute.  Theory: dental hygiene!  Tool:  To avoid fluoride and other chemicals I choose a natural brand and particularly like this one from The Natural Dentist Healthy Teeth & Gums Original Toothpaste, Peppermint Twist .   Practice :  We all know how to do it.  Soft bristles and at least 1 minute recommended.  But a pea sized amount of toothpaste not a swish like dollop!…  and floss too. 
4. Clear Eyes (rosewater and calisthenics). 1 minute. Theory:  Moisten, cleanse, lubricate the eyes and exercise the eye muscles. My very Western eye doctor endorses my practices but does not know why.  To me they just leave my eyes fresh, stimulated, clear and bright.  Tool:  simple eye exercises (see below) and Rosewater-Saline drops From Ajara ayurveda (email me and I will get you the drops).  Practice:  Place 2 drops in each eye.  Circle the eyes right 6 times and left six times.  Look up into the corners of the room and down into the corners of the room.  Simple.