Who am I and why this blog?
The perennially stressed out mother of four with an appetite for learning new things, I would describe myself as social, driven sporadically sporty and – well, busy!
Truth is, a full life may be satisfying in many ways but it gets dangerous for well-being:  relationship to family, friends,  body, mind, spirit  –  and, ultimately longevity and health.
For years I have studied ways to harmonize and align body, mind and spirit in the context of a busy, contemporary life.  
I mostly love sharing the knowledge and information, tools and strategies I have gathered over years of inquiry.  A long-time student of yoga practices and its literature including Sanskrit, I have worked through a host of certifications trying to gain mastery, not to mention some street cred.
Here is the basketful of Degrees & Certifications and stay tuned for more – so much to learn!
 Certified Holistic Health Practitioner
Professional member – National Ayurvedic Medical Association (NAMA)
Ayurvedic Health Educator, Advanced Clinical Studies – New World Ayurveda
Ayurvedic Practitioner and Yoga Specialist– Kripalu School of Ayurveda
Holistic Health Coach – the Institute for Integrative Nutrition
Yoga Alliance professional
Master's Degree candidate in Social Work from New York University.
Attorney with special interest in medical Ethics (Juris Doctorate) – the New York University School of Law.
I give workshops all over and see clients privately in South Florida, Connecticut, New York and via Skype.
The most meaningful work was helping patients at a clinic for traumatic brain injury and neurogenic conditions in New York City. Amazing to see how the practices help people pull it all together even after  their lives came to a halt, full-stop crash.
Because I love to talk and share, I  host a weekly regional NPR Radio show (WHDD 91.9FM), Strategies for Dealing with Stress, where I chit & chat with producer Jill goodman about everything from anxiety to supplements, breathing practices to myth-busting realities about detox cleansing.  All the insights, tools and strategies you may ever want for balancing the need for harmony with busy modern lives.
In 2005, I helped give birth to the Five Star Mayflower Spa in Washington Connecticut,  and I have taken gigs as creative consultant for wellness ventures nationally  including Pure Yoga in New York City.
In 2003 I was  nominated for an Emmy award (that was a fun and very raja sic side-show)  for an HBO documentary film labor-of-love and inspiration called  "Dwarfs: Not a Fairy Tale".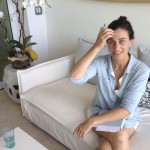 The best things I know come from mothering 4 incredibly diverse, love-kin children, and being married for so many years I do not identify with the number.
I divide my domestic time  between Manhattan, Florida and Washington, Connecticut.
Testimonials
"Lisa has strong intuitive skills and genuinely cares about her clients."
~ Dr. Mona Greenfield, PhD, LCSW
"The health strategies I developed with Lisa have changed the way I view health and well-being and proved that 'I am my own best healer'."
~ Rachel S.