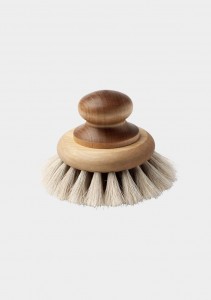 Welcome to
Brush & Massage

, Step II of the 5 Daily Practices

I.  Cleanse (see previous post)

II.   Stimulate — Dry Brush & Self-Massage  4-10 minutes

STEP 1:  Dry Brush Stimulates.  2-5 minutes.  

Theory:   The name of the game here is to prepare, stimulate,  invigorate and detox your largest organ – the skin.  Then hydrate it.

The way we typically handle the skin is to soap it clean (read as strip away natural oils and good bacteria both of which can be protective and beneficial),  then we slather on some lotion which typically has parabens and other unpronounceables as a preservative.  Our skin eats the stuff but does not get truly penetrated.

SO:  When you get to the part about massage, understand that the oil,  balms and butters you select will penetrate deep into tissue, increase circulation and make you feel more grounded, more connected.  As the massage increases circulation, you may enjoy a host of benefits we can all use from deeper sleep to increased immunity via a refreshed and functional lymph system, to some SPF protection.  Dry Brush and Self Massage (instruction) &  Morning Rituals with Lisa Hedley  (a video).    For some Western science, read below*  

Tool:  There are lots of ways to brush the body from mitts and washcloths (great for travel), to  a variety of hand-held brushes.  This brush is my favorite. The bristles are soft but firm enough to create that lymphatic stimulating action and it has that nifty little handle.

Practice:  Brush the skin.  Start at the extremities and brush up and in towards the heart.  Use circular motions over the joints and long sweeping motions over the long bones.  No need to scrape off the skin but do stimulate!

STEP 2:  Massage.  2-5 minutes.  

Theory:  Moisturize & hydrate with the Daily Self Massage.  Why not smell great and get soft, glowing skin and soothe the nervous system in the bargain.

 Tools:  There are lots of oils and lotions and balms and butters to choose from so remember that your largest organ is "eating"  whatever you put on it.  Keep it pure!
My Favorite for every day is one we developed because it is ultra nourishing, non-staining with a smooth dry finish and a delicious nutty scent.  Heavenly Daily Balm  .  It is said that nut butters carry an SPF factor from 4-10.  Just saying.
Traditional Ayurvedic Sesame oil (this is heating so if you have rashes or feel hot hot hot then try coconut or daily balm instead and make sure it is food grade but not oriental or you will smell like a stir fry.  Try This Sesame Oil )
Cooling Coconut oil  is perfect for warmer weather and hotter climates or if you are in an over-heated state. (see Pitta in glossary).
 Scented Intoxicating Oils are a therapeutic targeted choice.
DIY:  Add your own essential oils to a carrier oil like almond oil to personalize the massage.  Rose, sandalwood are cooling, citrus scents are uplifting, lavender and chamomile for calm.
(Please decant coconut oils and butters and/or use a clean spoon to dish out what you  will need for each application to avoid contaminating the whole jar.)  
Practice:  Massage* the oil/butter into the skin head to toe in the same pattern as you brushed.  Use long sweeping strokes up the long bones, always towards the heart.  Massage using circular motions around the joints (knees, ankles, elbows, wrists and shoulders.)  
Do it with love.  Do not be scared.  Have Fun.  Enjoy the play.
* The science of  massage as I learned it:  When the nerve cells are stimulated, physical energy is transformed into energy used by the nervous system and passed from the skin to the spinal cord and brain. It's called transduction, and no one knows exactly how it takes place. Suffice it to say that the process involves the intricate, split-second operation of a complex system of signals between neurons in the skin and brain.