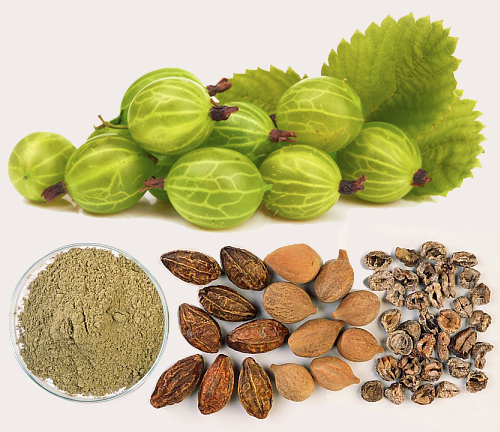 Triphala:  It's traditional, it tonifies, it promotes elimination & it works.
Forgive me for getting personal but here is one thing I know for sure:  Every one of us should be pooping every morning.  The cleaning and detox crew has been in overnight while we slept and that garbage has to be removed.
When I gave up my cup of morning Jo years ago my elmination ritual got a little erratic.  I found triphala and with a "three week on one week off" regimen I am as regular as Big Ben.  (aren't you glad you know that about me?)
I sing the praises of Triphala becasue this is not ordinary laxative. though it does have that effect.  No this is a powerful trio of traditional purifying herbs that, together do many things to contribute to a healthier elimination and detox process in the body. Triphala does act as a gentle, non-habit forming laxative working as a demulcent as it tonifies the intestinal tract, purifies liver and more.
I had always heard that moving the bowel in the morning is a critical part of a natural detox plan. Many Ayurveds says no meditation until a bowel movement. This made it even more urgent that I have that daily cleansing action every morning.  Optimal digestion and elmination are the daily natural detox process  (better for you and more effective than more extreme and sporadic things like juice fasts or crazy cleanses.)
Triphala translates to english as Three Fruits a formula made up of  three fruits native to the Indian subcontinent: Amalaki (Emblica officinalis), Bibhitaki (Terminalia belerica) and Haritaki (Terminalia chebula).
Buy some Triphala Now
Benefits of Triphala

promotes natural internal cleansing
Gently maintains regularity
Nourishes and rejuvenates intestinal tissues
Supports healthy digestion and absorption
Natural antioxidant
Banyan Botanicals (trusted source of herbs for me always) says:
Amalaki (Emblica officinalis): Has a cooling effect that manages pitta, supporting the natural functions of the liver and the immune system.
Bibhitaki (Terminalia belerica): Particularly good for kapha, supporting the respiratory system as well as kapha accumulations in all systems.
Haritaki (Terminalia chebula): Though having a heating nature, it is still good for all three doshas (vata, pitta, and kapha). Is known for its "scraping" effect, which removes toxins and helps maintain healthy levels of weight.
The emphasis here is not so much on elimination as it is on tonification. My understanding is that constipation and irregularity  are generally caused by liver and gall bladder congestion, usually with some toxicity in the blood and liver departments.
So here is a plan I follow:
1-2 tablets with warm water before bed.  I like to travel with the Triphala liquid extract and take a full dropper in warm water morning and night while traveling.