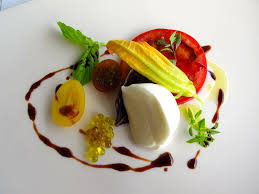 Food combining is  both a  simple and complex concept.
Here is some clarity! (see below for some basic food combo rules to live by)
The old Ayurvedic adage says:  "food can be medicine or it can be poison, it all depends."
It is explained partially by rules of food combining but also on you, your constitution, when you are eating what and how.
Foods can be incompatible for all sorts of surprising reasons.  The foods themselves may interact unfavorably, they may have opposing or conflicting effects in your body, they may be incompatible for your dosha (constitution) or problematic at a particular time of year or in a particular climate.
I talk a lot about seasonally appropriate diet. This is really a matter of keeping those Vata Pitta Kapha doshic elements balanced. Knowing the qualities of foods helps you choose well for a particular season. This can get complicated so just think practically:
In the spring, avoid clogging, milky foods since these may exacerbate allergies.
In summer emphasize cooling and astringent foods, not heating and spicy ones.  Example? Eating hot chili peppers would add heat and could aggravate pitta type problems like skin irritation, acne, acid reflux, anger issues etc.
Finding ways to balance the qualities that tend to increase or get aggravated a particular time of year is key.
Here is a simple example:  Honey and Ghee.  These are both touted as healthful even medicinal foods.  But beware.
Honey:  First, you must always use raw organic (uncooked) obey or it may be stripped of anything good for you.  Baking or using honey in high heat situations can make it sticky, clogging to the body and in old Ayurvedic thinking, release toxins from within itself.  This means honey is not really a suitable sweetener for baking or in heated beverages.
Ghee:  Make sure it is stored properly after preparation in a sterilized jar and do dip anything but a freshly cleaned and dry spoon.  And here is the most interesting aspect of the Ghee/honey duo.  One must never mix equal parts Ghee to Honey. So if you are making golden milk and choose honey despite the idea that it should not be heated, make sure that you use unequal amounts.  The logic goes that they have opposite reactions within your body-system. While Ghee has a cooling and moisturizing effect, honey is heating and drying. They would cancel each other out if used equally.  So I would err on side of more ghee if you are dry and feeling undernourished, but more honey if you have a cold and are looking to clear the fog of mucous and lethargy.
Here are some Combos to avoid or at least consider curtailing:
Milk and meat
Cheese and fruit
Fruit and Milk (yes this means yogurt!)
Stale food (including leftovers)
Fish and yogurt or milk
Anything in Excess
Too much dry salad
Ice cream at night
Melon: Eat it alone or leave it alone
Some of these rules are based on the fact that foods are digested at different rates and combining them may lead to fermentation and putrefaction in the digestive tract. yuck!
Milk and Fish?  Milk is cold and fish is heating. They antagonize one another.  Think of it as a battle in your gut instead of harmonious digestion.
Avoid cold drinks with or right after a meal. The cold diminishes digestive power (called agni) and causes a host of digestive problems, allergies, and colds. (The same goes for ice cream and frozen yogurt.)
Fruit after a meal also a no-no since it wants to get digested quickly while there is actually no room at the inn because that big meal is being processed.  So it ferments and, again, yuck.
It's best to avoid leftovers if you can. Food loses its vital energy after a night in the fridge and gets slimy and heavy, too. If you do eat leftovers on occasion, sauté them in ghee with some livening ginger, garlic and black pepper.
One Italian client asked:
What about Caprese salad I have eaten my whole life?   The answer is that theoretically and practically these are not good combinations.  Many of us are so used to improper food combining and there is actually a term in Ayurveda-land for the condition where your body, over time, becomes accustomed to bad combos and you are therefore less a affected by the impropriety.  The concept is called Satmya and refers to the possibility that a given person might adapt to a natal diet or a habit long held.  But if pinnacle digestion is your goal then best to try to conform predominately to these excellent rules.