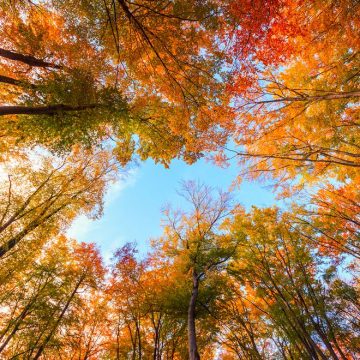 Fall is the ultimate transition- a true season of flux inside and out. Listen here while you read.
Amidst the beauty and sense of expectation are the hazards including weather that fluctuates wildly, accumulated heat from summer which can impair immune system function if left unchecked , the return to school and work routines that may feel jarring, over-stimulating, anxiety-provoking and down-right depressing.
So how best to enjoy the ride and  transition easily into Fall?.
I am feeling unequivocally excited about the fall.  Not my usual M.O. as friends will attest.  This year when my husband reminds me that "autumn has its flowers too,"  I am focused on the beauty and not a sense of frigid gloom and having to work at finding the beauty in the crispy golden yellow, deep purples and dried seed pods on the lily pond.  Another key to a smooth transition is to neither cling desperately to the bliss of summer nor fear the cold ahead but to find a way to appreciate the best aspects of both.  All things must pass  and that means the good the bad and the ugly will pass!
I am more ready this year because I have decided to let go of the blissful summer weather and move on into what feels good now.   Net Result? Those fluctuating temperatures that have been unsettling in the past are actually feeling good to me. Last year I was focused on Falling gracefully out of summer mode (read last Fall's post ) while this year I am playing with ways to feel grounded, warm and buoyant before the frenzy of re-entry begins and the weather starts to fluctuate, cool down for good and crisp up the leaves and lawns.
Here are 4 basic strategies for getting grounded in preparation for the seasonal shifts ahead. And before that:  some theoretical groundwork.
Get more grounded in your routines when the atmospheric conditions surrounding your body are in flux. Get sound, uninterrupted sleep. Get your exercise and focus on keeping the breathing deep, slow and steady. Eat at regular times and look at what is growing now…Apples to cool and regulate digestion, squashes and pumpkins and greens that should be cooked, steamed and stewed. (Keep it light at night so digestion has a chance to work optimally and sleep is clear and deep.)
Warning: if you try to ignore transitions you are setting yourself up for  issues you might recognize because we all tend to have our own propensities towards certain re-current health problems – for you this might be a sore-throat, sinus infection, allergies, anxiety, depression, irritation, a cold, cough or the flu. You know who you are and what might come so plan ahead and avoid it this year. And when you feel that little twinge: sleep, build up your immune system, attack before you go down!
 Here are 4 Basics for Setting up for The Healthiest Fall Transition:
Build up your Defense system: Build immunity and stability by promoting "Ojas."  (read about Ojas here). And the recipe for a nourishing Ojas building drink.
Oil it: sesame oil or daily balm with woody slightly floral aromas that are grounding. Nourish the tissues of this largest bodily organ with daily self massage.
Get Grounded: choose a practices that feel grounding and stabilizing. Include standing poses, planks, seated twists, poses that build heat while feeling grounded like warriors and chair pose. Keep your gaze softly downwards and the breath deep and slow.
Smell it: There are scents that are inherently grounding so look for them in products or blend them into some almond or sesame massage oil to use in self massage. Pre-blended body oil of choice is the Intoxicating Massage Oil – Tranquility or Pacifying. For the Face try the Swami Tridoshic face oil from Ajara and for essential oils look for Patchouli and vetiver, rose geranium, sweet orange, Patchouli, jasmine and neroli.