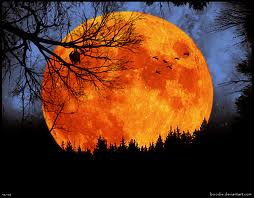 The fall equinox is today. First official day of Fall.  Preceded by a lovely harvest moon we are now headlong into my least and most favorite season.  (Remember the benefits of  moon watching.)
I try to revel in what is offered in each season and Fall's beauty is undeniable — redolent and evocative as the dusky smells and the crunch of the leaves underfoot.
I am thinking of pumpkin colored misty fields on an Indian summer's day, but like a Woody Allen character I am also thinking of long cold dark winter days ahead when my Mediterranean self is longing for sunshine and warmth.
Herewith some tips for falling into Fall gracefully and taking advantage of being here now:
Theory:  Manage the effects of the season.  Look at the qualities of fall (drying, crispy leaves, blustery winds); look at qualities that predominate in your constitution (take the quiz) and;  look at the qualities that best describe any imbalances/symptoms you are currently feeling. (Hint: Vata imbalances may produce insomnia, anxiety, excessive stress, constipation, colds and flu, joint pains and increased seasonal allergies.)  Remember too that you may have accumulated heat over the summer and especially if you are a naturally Pitta (fiery) person,  resulting symptoms like inflammation, anger/irritation, over-drive mentality, dry-skin, rashes, slow digestion may crop up.  These need to be dissipated so that you do not carry these imbalances forward where the cold, volatile qualities of fall and winter will take advantage and your immune system will suffer, seasonal allergies may worsen etc.
Tools:
Herbs: Try a teaspoon of the traditional herbal jam called Chyavanprash daily for improved immunity and stability in this volatile season. Click Here for Chyavanprash
For The Body:  try  the obvious cozy warm sweaters and keep your head covered, and exercise that balances the symptoms and qualities you are experiencing .
For the Diet:  look for foods and preparations that have sweet sour and salty flavors, nourishing, moist and soothing.  Pumpkin, Squash and in particular Apples (cooling and purgative), Pomegranate (anti-heating, anti-oxidant) and late season watermelon are all cooling (get rid of leftover summer heat accumulation) and detoxifying. Beware the apple which hits the Dirty Dozen Pesticide contamination lists:  choose only organic, washed fruit.  Drink hot or warm, not cold water, teas, soups etc.  Think ginger, cloves, cinnamon, chamomile.
For Fitness:  Fluid, measured, warming. Look for longer inhalations and lesser exhalation, keep the gaze steady and soft at the horizon line, think of slow smooth, steady and rhythmic moves with plenty of twists and counter twists to create grounding.
And remember,  as my husband always quotes hopefully:
 "Autumn has it flowers too." Alexander Pope.