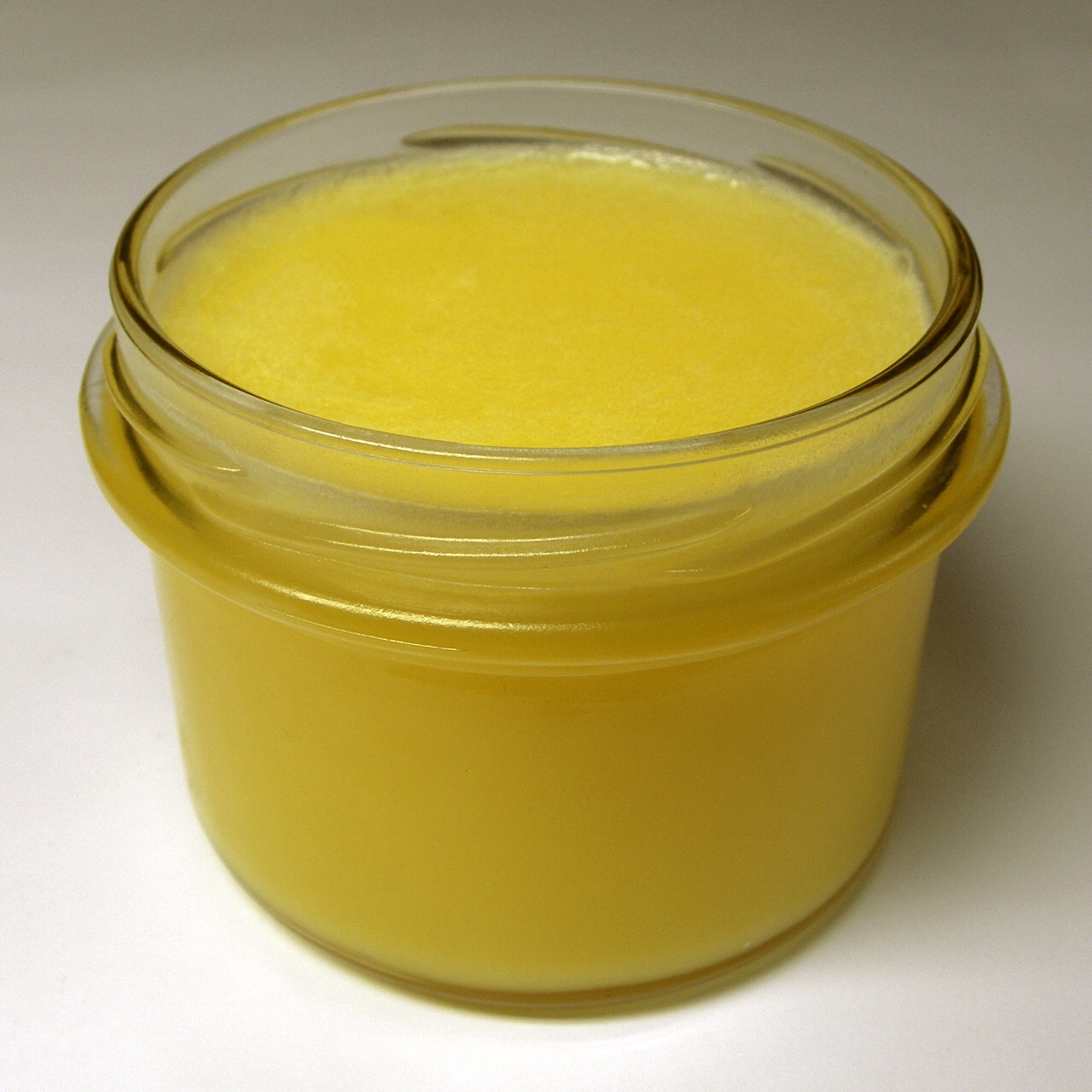 Ghee is a pure staple for a host of healthy recipes and practices. Here are some thoughts and an easy recipe.
Ghee is nothing more than clarified butter.  I was going to write up a whole post and transcribe the recipe I use but this site did it so well I refer you to it below
Ghee is what I would make and use in my Bulletproof Coffee.  You can daub a pea size drop around crows feet for superior moisture at night.  You can cook with it at high temperatures.  It has health benefits beyond butter since this is actually clarified butter cooked down to an even more pure state than that normal stick.  It is part of my Pure Yum Ojas Elixir Golden Milk nourishing drink (click here).  In Ayurveda school we poured it into our eyes as a therapy.  That was just strange but I must admit my eyes felt soothed and clear afterwards!  It is part of the first cleansing steps in Ayurvedic detox cleansing called Panchakarma and it makes a great base for herbal ointments for burns and rashes.  It is considered a nourishing digestive that helps absorption and assimilation.
Here is a an easy Ghee recipe from revered teacher Dr V. Lad.
 Ghee
1 pound unsalted butter
Put the butter in a heavy, medium-sized pan. Turn the heat on to medium until the butter melts.
Turn down the heat until the butter just boils and continue to cook at this heat. Do not cover the pot. The butter will foam and sputter while it cooks. Whitish curds will begin to form on the bottom of the pot. The butter will begin to smell like popcorn after a while and turn a lovely golden color. Keep a close watch on the ghee, as it can easily burn. After a while it will become a clear, golden color. You will have to take a clean, dry spoon to move away some of the foam on top in order to see if the ghee is clear all the way through to the bottom. When it is clear and has stopped sputtering and making noise, then it needs to be taken off the heat. Let it cool until just warm. Pour it through a fine sieve or layers of cheesecloth into a clean, dry glass container with a tight lid. Discard the curds at the bottom of the saucepan. The ghee is burned if it has a nutty smell and is slightly brown.
1 pound of butter takes about 15 minutes of cooking time. The more butter you are using, the more time it will take.
Ghee can be kept on the kitchen shelf, covered. It does not need refrigeration. The medicinal properties are said to improve with age. Don't ladle out the ghee with a wet spoon or allow any water to get into the container, as this will create conditions for bacteria to grow and spoil the ghee.
Two pounds of butter will fill a quart jar with ghee.