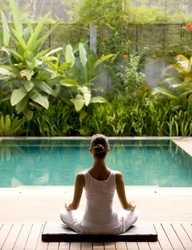 Meditation is just not that complicated.
Meditation is not mysterious and inaccessible.
We can all find a way to do it and a time to do it and it will be beneficial.
Here are 12 basics, 3 tools
and 1 simple practice to get started.
Theory:  It is entirely up to you to choose to change and grow.  Meditation is neither introspection nor hypnosis — it is a systematic technique for taming the wild things known as thoughts (often disguised as desires and negative habits of mind).  Buddha said, "All that we are is the result of what we have thought."  Jesus called this sort of self-realization a "pearl of great price".  But do not be deterred thinking that meditation has to be a spiritual or religious pursuit.  Following the breath and other techniques are purely secular.  (Though I like to think of the benefits of meditation as a pearl of great price indeed.)   Here are a few things to know, feel, do and not do about the big M:
1. There is no one answer.  M is entirely personal.  There are as many techniques as thumbprints. 
2. Make it a habit:  3 times weekly for 10 minutes is good; daily is better; 20 minutes daily better still; and so on.
3. M activates really useful parts of the brain like the pre-frontal cortex — responsible for higher functions like logical reasoning, planning and imagination as well as emotions like compassion. M will grow your mind in all the right ways.
4. Make M a habit like brushing your teeth;  not a task on the to-do list.  Remind yourself M is a treat.
5. M is a time to commune with your own true nature, (the you-ness of you) and transcend the external mind.  A reach for the pearl, as it were.
6. M will carry you to a place of inner tranquility and teach you how to access that excellent place more freely.
7. M will release emotional stress, grow awareness, and shift you from over-drive into neutral.
8. M is magic for helping you articulate desires. Set intentions at start of M and you will be amazed what comes of it.
9. Clear a space, a place, a time, get a timer and find a comfortable way to sit.  (see Tools below)
10. M is the art of taming the 'monkey-mind' and training yourself to focus on one sure thing – ex.the movements of breath (add mantra sometimes.)
11. M is a time for noticing, not doing. When attention wanders, as it surely will, gently return attention to your breath. That's IT.  Distractions, like sirens on the rocks, will be tempting and you may find yourself  wondering about dinner,  worries and other thoughts.  But instead of trying to force yourself to ignore, play along for as long as it takes to notice and dissolve the thoughts and feelings and redirect attention to the breath (or mantra.)
12. After M you  will be a calmer, more focused, and less cranky person, friend, child, parent — and these benefits only deepen and grow with time and the habit of practice.
3 TOOLS:  Timer, Journal, Seat.
TIMERS:  Set a timer so that you never worry about how long is too long.  (I admit that otherwise my mind spends a lot of  time wandering and thinking about why this meditation is taking so long). Here are 3 I use:  Blue Moon Timer and Stopwatch– little black timer that could not be easier to operate and has a pleasant chime,  Salubrion Enso Asari Timer (Oyster Grey) – a beautifully designed little thing with multiple functions;   Insight Timer – a phone App I use when traveling.
SEATS:  I use a  functional set like this one that provides great support and is easy on the knees.  Buckwheat Meditation Cushion Set (2pc), Black.  For travel I take this one along:  Manduka Travel Seat.  A friend has a company called Hedgehouse and she makes these chic throw beds.  We are working on details for our very own Lah Life set of meditation cushions — so stay tuned for that one.
JOURNAL:  Get yourself a composition book or whatever floats your boat in the pen and paper department.  I like these beautiful ones: Sea Flowers Eco-Journal; Native Herbs Journal .
PRACTICE:  Breath watching is the simplest practice I know.  There are many others and one-on-one instruction is a great way to go.  (read here)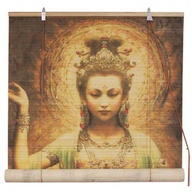 1. Find a comfortable seat on a cushion or in a chair. Lying down is fine, but the energy does flow differently and it is more likely you will fall into sleep instead of meditation.  
2.  Set your timer.  (3, 10, ideally 20 minutes.)
3. Set an intention for the practice.  Anything from "I will enjoy this time of peace and quiet" to a positive affirmation about something you desire.  Day after day of setting intentions will show you just how effective this meditation/intention setting can be!
4.  NOW:  Watch, feel and notice the air entering and leaving the nostrils. Watch, feel and notice the belly rise and fall. When your mind wanders (and it surely will) simply acknowledge  the thought.  Notice the thought and then return to the breath.  You may have to redirect the mind over and over but do it without judgement or frustration. This is in fact the act of purifying the nervous system as thoughts come and you are able to let them go.
5. When the timer goes off,  sit for 30 seconds before popping up and launching into your day.  Remind yourself of the the intention you had for the practice.  Notice the difference in the way you feel.  You may want to write down some thoughts.
BEWARE:  Though it may be tempting, refrain from popping up during M to write down a brilliant thought.  Life altering ideas are still there afterwards. I promise.