Current summer fixations:  Coconut oil scalp massage to keep my hot temperament cool and get shiny smooth hair.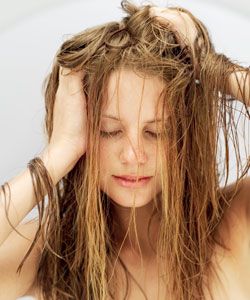 So while I am on the theme of keeping cool I wanted to share a single solution to lots of what ails you — Coconut Oil *  scalp massage.
I like to do this on a sunday afternoon when the world is a little calmer and I can sit with an oily head wrapped in a turban.  It has certainly helped keep my hot head cool, my scalp healthy, and stress-levels down.
This  is the time to keep the heat from getting to you…  well before it builds up with mid-summer sun, cocktails, spicy barbecues and lots of outside activities.
Coconut Oil is cooling in nature, smells delicious and is said to forestall thinning and premature graying.
Scalp massage helps:
Increase blood circulation
stimulate healthy follicles and hair growth
relive tension and stress in scalp
Other Oil Choices?  There are any number of oils that would also be good for scalp massage if you have other concerns beyond the heat:  If you are feeling anxious and light headed and are a more "Vata" predominant person then go for Sesame Oil as the base oil.  If you are feeling damp and sluggish then you may be "Kapha" predominant, sesame or olive oil are good choices.
From Ayurvedica —  Herbalized and Essentail Oil choices:
Healthy Hair Oil is my go to Ayurvedica, verbalized oil.  The Brahmi helps calm the mind and nervous system, pacifies Vata, is nourishing and adds thickness and body. Amalaki is cooling, nourishing and purifying all at the same time. Particularly beneficial for Pitta-predominant people as it is said to ward off premature thinning and graying. It also helps prevent dry scalp and flakes. Bhringaraj, which translates to "king of tresses," is also Pitta-pacifying and very nourishing for the hair.
Rosemary, Lavender and Tea Tree essential oils can be added to any of the carrier oils (not the healthy hair oil) and are excellent for all types of hair. Rosemary helps stimulate hair follicles and promotes growth, helps retard premature thinning and graying, and soothes and conditions the scalp. Lavender stimulates hair growth, balances oil production and replenishes the hair and scalp.  Tea Tree has antiseptic and stimulating properties.
 The How-To:  Scalp and Hair Self-Massage
Pour some oil into a bowl and warm the oil by placing the bowl in some hot water. The oil should be warm but comfortable to the touch.
Using the pads of your fingers, apply the oil little by little to different parts of your scalp, parting your hair as needed. Also work some oil along the length of your hair. Then, using the pads of your fingers, work the oil into your scalp, using circular motions. Slow, deliberate movements are relaxing while steady but vigorous movement helps enhance energy and circulation.
Cover your entire scalp, all the way down the sides to your ears and at the back to your neck. Leave the oil on for at least 30-60 minutes, longer if you can.
Shampoo out with a gentle, natural shampoo without water at first (oil and water do not mix) and a second wash as usual.