Oil Pulling:  Swish oil in my mouth & Scrape My Tongue? 
I really thought it was too much to ask that I put a tablespoon of sesame oil in my mouth and swish it around for 10-20 minutes. But it was a homework requirement at Ayurveda school.
After doing it for one month I was convinced, and have practiced ever since.
I love clean, fresh teeth after a professional dental visit and this is pretty much what I get every morning even before I scrape the tongue and actually brush the conventional way.
Who knew?  Well those ancient Ayurvedic practitioners, apparently.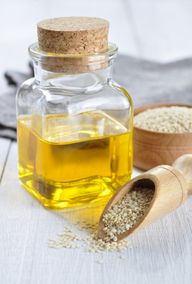 Theory:  The practice of oil pulling is said to have a powerful detoxifying effect on the whole body, not just gums and teeth.  Sounds far-fetched, but some say it can also reduce overall inflammation, help clear up chronic sinus issues and other health problems including arthritis and heart disease.  Ayurvedic wisdom tells us that the oil acts like a cleanser pulling out bacteria, viruses, fungi and other parasites and their toxins.  Candida and Streptococcus are the common ones we know can cause gum disease and tooth decay and contribute to many other  health problems down the line.  Our immune system is vigilant,  but it makes plausible sense that when burdened by things like excess stress, poor diet, and environmental toxins,  these opportunistic organisms can spread and create disease in far flung reaches of our systems.  What I can tell you for sure and from personal observation is that it certainly whitens the teeth, feels like it is pulling out a lot of toxic yuck and improves gum tissue health.  Even my very Western dental hygienist noticed a difference and vowed to start the practice.
Tools:  Organic, food-grade Sesame Oil is the best.  Make it organic, cold pressed and unrefined.  It contains healthy, unsaturated fatty acids as well as Vitamins A, B and E which are easily absorbed and digestible.  It is calcium rich and infinitely more promising approach to dental hygiene than excess fluoride and other chemicals found in conventional tooth cleaning products. Sometimes I will use Coconut oil which is good for its antibacterial, anti-fungal and antimicrobial properties as well.
Practice:  1.  Put a tablespoon of oil into your mouth.  2.  Swish the oil around, through your teeth and around your gums. It feels awkward at first, but as you continue the practice you'll settle into the feeling of slowly swishing the oil around and around. Ideally, you should aim to keep the oil in your mouth for 20 minutes, but start off with a few minutes and build up. After the time is up, spit the milky white gloop in the trashcan (not the sink where it will gloop up your pipes.) What started off as a fresh spoonful of oil has now turned into a sludge of microorganisms so Do Not Swallow it!.
Then scrape the tongue with a sturdy, good quality stainless or silver scraper. 
Gargle with warm water (salty if possible) to remove the remnants of oil and bacteria and brush your teeth as usual.
Within a week or two of daily oil pulling you should see healthier teeth and gums.
Sometimes I use oil-swishing time to sit quietly in a sort of meditative state, other times I use this time to do some body brushing and light movement exercises.
Listen to my pod-cast on Oil Pulling