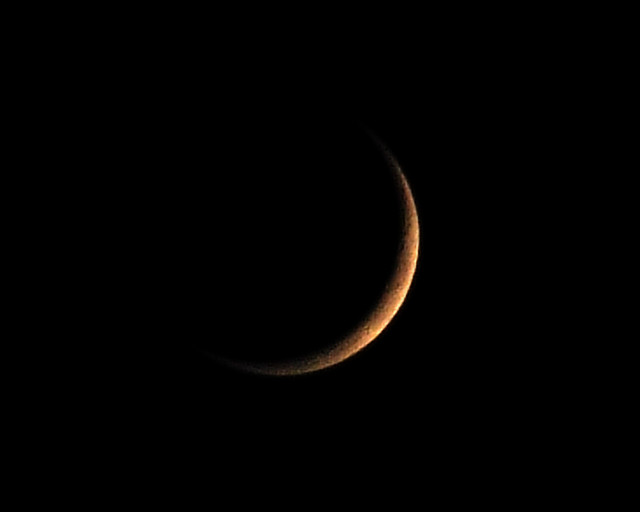 The New Moon is a mysterious thing. It is, on a basic level, a trip to the dark side…The part where the sun don't shine, therefore there is no reflection for us to see.  Oct 23, 2014 this month.
Think of it as the birthing cycle of the moon. In the days after the official new moon, the nascent moon will be but the skinny crescent  found low on the horizon.  So, Why focus on the new moon?
Well,   for starters, since I hate the back-ends of things perspective,  I prefer to see it as the down time before the build up and watch the elegant slip of a crescent grown into its full glory later in the month.  But there are more compelling reasons to love a new moon cycle….
The New Moon is the start of the waxing time (vs waning) and a such is the perfect time to consider what new things you might want to call into your life and your world.  It is the perfect time to articulate some changes you would like to see or call up some things you want in your life…  If you do not dream on things and think them into being….well you know.  You are what you think!
Following new moon cycles is on the most basic level a cheat-easy way to get connected to "nature" even if it has to be from the roof of your building… I can give you the chart  (click here for moon phase chart)  but really, just go outside and take note...
THE NEW MOON INNER OBSERVATORY PRACTICE – (a "be your own laboratory practice")
WHAT YOU NEED:  Journal, Pen, Powers of observation: inner and outer, a sense of play and exploration.
WHAT YOU DO:
Go outside and look at the new moon. Or rather the night sky which will have no apparent moon to see.
Pick your journal and settle in with it.  This could be a file on computer, but I just love the feel of great paper and a smooth pen, preferably real ink.
If you are into yoga, maybe try a Chandra Namaskar practice.  Sort of like a sun salutation but go super slow with deep long breath and instead of chataranga push up, flow back into a child's pose.
Now, think of and then jot down the things you would like to see manifest in your world — spiritual, physical, tangible and emotional.  You can illustrate with images, ideas etc.  hey:  it's your journal.
Then, with each new moon, don't just cross off the things on the list that have either been accomplished or are no longer relevant:  re-write the whole list again.
To really solidify these best intentions, aspirations and desires, do an "Inner Observatory Practice like the following combination of breathing and sitting.
Do a few rounds of a simple breathing practice like Alternate Nostril breathing for balance and to quickly and easily settle the mind into its receptive juiciest state.
After the breathing practice,  try to think of a happy time and try to feel what i was like during that time…the people, the faces, the smell.  Now, into this feeling of contentedness repeat the things on your list, to yourself,  in your mind,  in an affirmative way.  Then just sit for a few minutes, spine tall, hands in lap and thinking of nothing in particular.  Watch the breath if you need to keep the monkey mind busy so you do not spend the time plotting ways to "achieve."  Just let the thoughts sit in the deep subtle energetic caverns of your mind and soul.  It is a process.  Let it be.  (NOTE:  you might set a timer to 10 minutes for the short breathing practice and the sitting.)