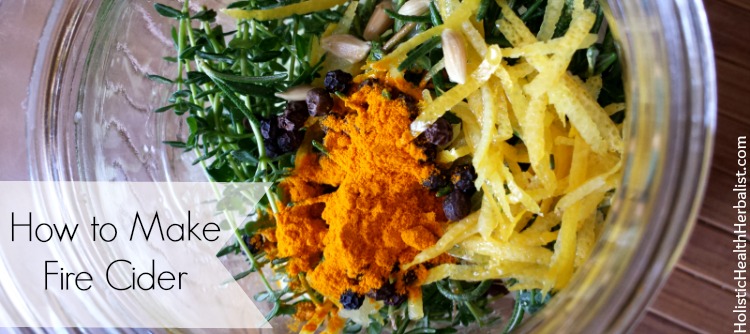 Food as Medicine:  this is a mantra for best health.  And now, it's the time of year to make Fire Cider!!!
This is THE go-to, burn-it-out curative elixir for flu, colds, sniffles, digestive boost and various seasonal afflictions.
The ancients knew:  "Let food be thy medicine and medicine be thy food." – Hippocrates.  And the Ancient Ayurvedic proverb says: "If diet is wrong, medicine is of no use. If diet is correct, medicine is of no need."
Learn more: http://www.naturalnews.com/Quote-Diet-Medicine-Ayurvedic-Proverb.html#ixzz3HO8ZNh2X
There are certain foods that are more medicinal than others – take ginger, turmeric, honey, apple cider vinegar among them.
Fire Cider itself is a blend of folk medicinals for anti-microbial action, decongestant power and spicy stimulators of the circulatory system.  All elements that make for a stronger immunity overall.
Click here to  follow the holistic health herbalist recipe or craft your own from the following basics.
1/2 cup fresh grated organic ginger root
1/2 cup fresh grated organic horseradish root
1 medium organic onion, chopped
10 cloves of organic garlic, crushed or chopped
2 organic jalapeno peppers, chopped
Zest and juice from 1 organic lemon (include the lemon peel)
Several sprigs of fresh organic rosemary or 2 tbsp dried rosemary leaves
1 tbsp organic turmeric powder 
1/4 tsp organic cayenne powder
organic apple cider vinegar
1/4 to 1/2 cup raw local honey to taste 
Directions
Combine all ingredients in a quart sized jar with a plastic lid.  (metal may rust, so line it with parchment if it's all you've got.  Shake it daily for a month.  Finally:  press and strain the liquid through a nut milk bag or some cheese cloth.  Then add 1/4 to 1/2 cup of honey.