If you find yourself in the Greek Isles of the Ionian Sea (land of Odysseus) then here are a couple of spots not to miss:  
First Stop:  Errikos in Porto Vathi…a most charming taverna in classic Greek style where a brother and sister team serve up ravishing tomatoes and feta, local fish grilled to perfection and Halloumi salad worth emulating.
I found this greek salad recipe  and this  Halloumi recipe thatcomes close enough to activate the sense memory.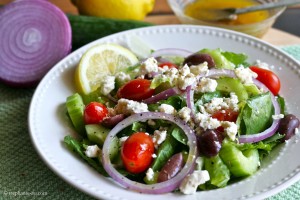 The perfect Greek Salad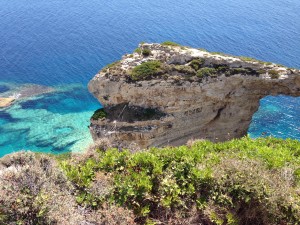 Second Stop: Hike the olive tree studded isle of Paxos: Past the famous "blue door" landmark, hanging laundry which vividly exposes the locals, and onward and upward to see the Arch.  Many of the  paths are actually ancient crushed olive pits and the view at the end (think Polyphemus tossing boulders at Odysseus from high cliffs)  is awesome.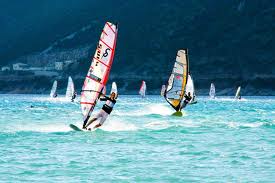 Third Stop:  
If you have ever wanted to windsurf, learn to windsurf or watch windsurfers then head over to "Lefkada" where the heavy maistros winds of Eric are something to feel and watch as hundreds of sails whip to and fro.
I had to sacrifice to Poseidon my favorite sunglasses as they flew off my head into the frothy waves but it was exhilerating and worth it.
And the added bizarre bonus was a stroll down the rocky beach and passed Club Vass where vacation revelers were enjoying a weekly friday bar-b-cue featuring strapping young Scottish gents wearing nothing but an apron around their front..bare-bottomed bar-b-cue.  go figure!