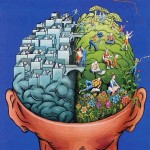 A clear, sharp brain may be one of the keys to happiness.
Here is a worthwhile challenge:  read 3 diverse articles, poems, quotations daily,  and take a minute to consider them and then share them with us!.
Theory:  Keep the mind agile with new information, new thought processes and just plain interesting stuff which, by the way, comes in handy if you get a boring dinner partner.  It  is the best way I know to feed the brain as well as the soul.  Think of it as Dementia protection, enemy of ennui, antidote to getting stuck in the rut of the familiar.
Tools:     Here are a couple of great mash-up site ways to do this.  My favorites are:  3 Quarks Daily, NPR, Elephant Journal
Practice:  Every day commit to reading 3 articles you might otherwise not read.  Then send a comment to this site or an email to Info@lahlife.com with the words "Brain Food" in the subject line.  Then I can share your picks with others!
While we are discussing brains, here is something fun to ponder about your own brain: