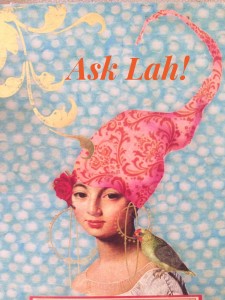 Think of Ask Lah as a sort of 'Dear Abby' for the art well-being.
They say that questions are infinitely superior to answers.  I ask all sorts of questions all the time. I think of it as the laboratory of personal experience.  I then share those answers with just about anyone interested in listening.  So here is an opportunity to make sure that I am actually answering questions you, dear readers of posts and blog, want to hear!
So, as many of you know by now, Lah is me: ayurvedic practitioner, holistic health coach, documentary filmmaker (nothing but questions), mother of four (questions, joys, frustrations), former attorney (the practical side).  Since it is my mission to blend ancient wisdom with modern well-being I try to make sure my answers are practical, effective and, yes, fun!  (the be well, savor the ride part.)
The information is evidence based and based on the the application of ancient arts and sciences in the laboratory of my own experience.
Maybe you just need a point of departure, an inspiration or an idea.  Or maybe you need a remedy for dry skin. The point is I am inviting you to "Ask away!"
Ask questions on all manner of issues related to tools and strategies for luxurious yet ecologically sound, modern well-being: from techniques to books, theories and practices to alternative health Remedies and Chemical Free luxe beauty and home products I have tried and love.  As always Lah Answers will be more playful than earnest,  yet evidence-based and serious.
Lah is at your service to answer and then share the thread with the community in on the LAHLIFE Facebook  page because there may be answers out there that are more useful than mine.