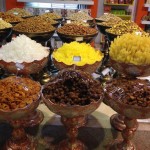 Here are some of the remedies brought back by Mina (read her Dispatches here) from her trip to Iran.  Some are more colorful than others!
Colds:  Brew ginger with fresh lemon and hot water. 
Acne:  Douse rose water on the affected area.  Lemon juice toner on affected area.
Stomach Ache:  Yogurt and oregano mixed and consumed by the teaspoonful.
Strengthen Fingernails:  Soakt eggshells in lemon juice.  When shell dissolves into the juice,  apply it to your nails. 
Dry Cuticles:  Henna and mourt applied to fingernails and for chapped, dried skin around the fingernails. (The henna will of course give the area mild color which might be more unsightly for we westerners than the dry cuticles!)
Dhiarrea:  chew on dried tea leaves. 
Strengthening & thickening Hair:  fresh cow dung. (sounds really appealing in all respects.)   You can also make a paste out of cooked mashed beans (any beans) and whole raw egg; apply it to the entire head and cover with a plastic bag. Sleep in it overnight. It will smell horrible! And another one: mix henna, egg yolk,  babooneh flower (??) and coffee and apply it to your hair. Add coffee because it balances the red of the henna into a browner color. (this one may better be left to professionals.)
To thicken Eyebrows:  ground raw garlic into a paste and apply it. Be careful not to burn and blister your skin!